Lenders reject 33% of customers using comparison sites
It's always a little surprising when customers contact us for a mortgage who have been totally unaware that they have had a number of credit searches carried out following recent searches for competitive renewal quotes on their home or car insurance via Comparison Websites.  I'm sure it will be stated somewhere in the small print, but the customers have researched a number of 'comparison' sites and ended up with a similar number of credit searches on their profile.  This, in a small amount of time can have a marked effect on your credit score, and as such, affect your ability to obtain finance, so always read the small print.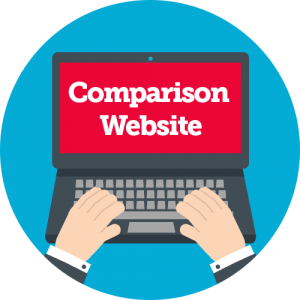 And according to Experian this week, lenders are rejecting 33% of customers using comparison sites as they do not meet their full lending criteria. Some 11,000 people were included in the analysis which examined eligibility inquiries made on price comparison websites and digital broker channels.  Its analysis also found that just 3.5% of people searching for a mortgage were eligible for every deal on the market.
With this in mind, a vast number of people still don't think they can get a mortgage.  With so much negativity in the media, it is not surprising that many people think they have no options. But this couldn't be further from the truth. There are more lenders and products available now than there has been for some time. Therefore, more options and choice for customers that may not have been eligible for a mortgage in previous times. This often does not include high street lenders though. These lenders could include a small building society located in a small village anywhere in the UK. Having access to a whole of market mortgage broker is the only way you'll gain access to such a possibility.
The bottom line is that a mortgage is the biggest debt you're likely to ever take on, so you need to do your homework and always seek professional advice.